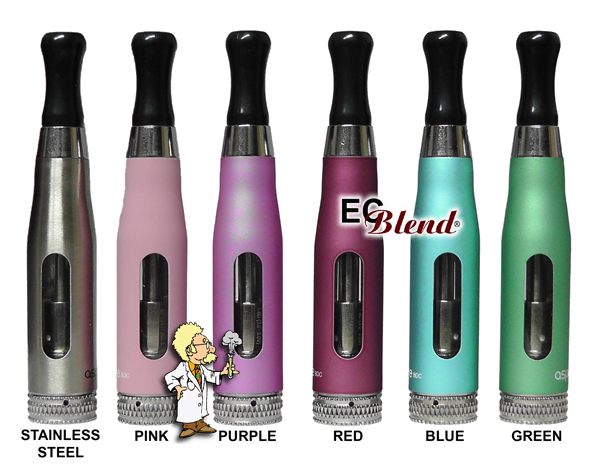 Clearomizer - Aspire - CE5-S BDC - Metal Body (empty) - Made from PCTG plastic with a metal protective covering. (These do NOT crack with various E-Liquids)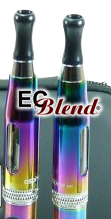 Fits any eGo 510 threaded battery. Fill with your favorite ECBlend e-Liquid.
(Rainbow is a higher price, price will update when selected)
[Link to Aspire CE5-S BDC Replacement Coils]
Aspire 2.1ohm Bottom Dual Coil Clearomizer with approx 1.8ml eliquid capacity and replaceable bottom dual coil atomizer head.
The Aspire CE5-S has an approx 1.8ml liquid capacity with replaceable dual coil bottom atomizer heads. The Bottom Coil design allows for superior wicking and maximizes flavor. Compatible with eGo threaded batteries and most other eGo threaded electronic cigarettes.
The metal tank sleeve is windowed to view the eliquid level.
INSTRUCTIONS
The replaceable coil screws into the bottom cap of the clearomizer. Simply unscrew the bottom cap and replace with a new head without the need to empty your remaining liquid from the tank.

To fill the CE5-S, turn the clearomizer upside down, and remove the bottom thread assembly. Tilt the Aspire CE5-S at a slight angle, fill with 1.8ml of your favorite ECBlend e-liquid. Do not allow liquid to flow in to the center air hole tube. Replace the bottom thread assembly, wait 2-3 minutes and it is now ready to be used.
Be sure to check and tighten the Bottom coil, after filling with liquid. This will ensure that no leaking will occur.
A CLEAROMIZER is a hybrid type of tank. It uses a wicking system to bring the e-liquid up to the heating coil. (These type of hybrid tanks work better with higher PG base mixes (i.e. 70/30, 80/20) Thicker base mixes wick slower and you may occasionally get a 'burnt flavor' due to this. )
How much E-Liquid is still in the clearomizer is easily seen. This is very important in knowing how much e-liquid is left in the tank and helps avoid burnt taste that comes from letting your cartomizer go dry.
Easy to clean, and Clearomizers are generally larger than a regular cartomizer.
Capacity: Each unit holds approx 1.8mL of e-liquid.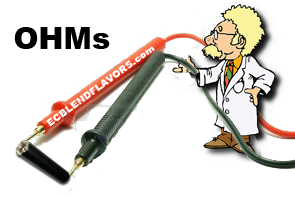 About Resistances: Higher 3.0 and Up ohms resistance provides a cooler, smoother vape with less throat hit.
Low to Standard Resistance measures 1.25 - 2.7 ohms. Lower resistance tank cartomizers provide greater heat and vapor which results in greater throat hit. Low Resistance Cartomizers are NOT recommended for thin, pen-style devices. They will work but can damage the battery and lower the expected life of the battery.
Simplify filling with Blunt Tip Needle Caps
---
For best results, make sure the wick is fully saturated. Let it sit for 5-10 minutes to allow for saturation.
AVOID HARSH BURNT TASTE: Incorrect filling, not filling completely, excessive voltage, or letting it go 'dry' (not re-filling) may result in a harsh burnt taste.
On Clearomizers: If you get a BURNT taste, tilt the clearomizer so that the liquid makes full contact with the wick. This is usually a sign you need to add more e-liquid to the tank.
NO DISCOUNTS: Unless otherwise specified, discount codes do not apply to this product.
NO WARRANTY: ECBlend does not offer warranties on cartomizers, clearomizers, tanks or atomizers.
---
Shaking and Steeping:
ECBlend E-Liquids are made fresh at the time you order and shipped quickly. Steeping allows flavors to blend and marry fully over time, so you will have a richer, deeper, more flavorful product after a few days or weeks of steeping. (This is especially true of tobacco flavors, our Dragon Series, and larger bottle sizes.) Store in a dark cool place, out of reach of children and pets. Shake daily.
---
---
Important Notices
(Select Options with Care: Options are available to mix and match to suit your taste. Care should be taken to not over flavor, (i.e. adding double extra flavor plus extra menthol plus double sweetener plus flavor shots will alter the original recipe and may give it a metallic or medicinal taste.) Always order a 5ml bottle before ordering a larger size.)
---
DOUBLE Extra Flavor WARNING
: Double extra flavor can change the intended flavor of a blend.
CLICK HERE to read FULL WARNINGS
EXTRA MENTHOL WARNING
: Extra Menthol is very minty, order it at your own risk.
TASTE IS SUBJECTIVE
: We recommend trying a 5ml bottle before ordering a larger size.
CUSTOM E-LIQUID - NO RETURNS, REFUNDS or EXCHANGES
: Due to personal tastes and preferences we are unable to offer returns, refunds or exchanges for e-liquid products.
WARNING ABOUT POLYCARBONATE TANKS: Use Polycarbonate tanks with e-liquid at your own risk.
NOTE: If your tank becomes cloudy or begins to crack, discontinue use of the tank. This usually indicates the plastic is polycarbonate.
MORE INFORMATION HERE and links to PP tanks