1100mah SmokTech 510 eGo Variable Voltage Battery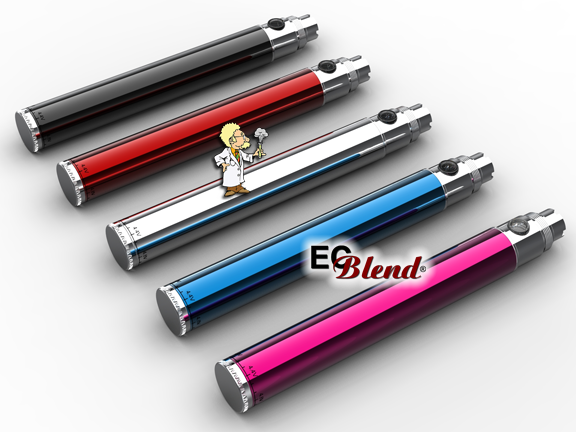 (CHARGER SOLD SEPARATELY: 510 USB Battery Charger)
The Smoktech Ego VV battery is the largest variable voltage eGo style battery made today. It uses smart buck-boost converter technology, which allows you to adjust voltage output from 3.2v ~ 4.8v by spinning the dial at the bottom. A red mark enables you to know exactly the voltage you are current vaping at! Regulated voltage output remains stable as the battery is depleted. An EXTREMELY easy to use and RESPONSIVE variable voltage dial!
The Ego VV battery is safer than regular eGo batteries because it offers 3 kinds of Protection:
Short Circuit Protection: When short circuit happens, the battery will shut down and not function again until short circuit is removed.

Safety Cutoff/Atomizer Protection: If you press the button for 8 seconds, the battery will be locked until the next press.

Low Voltage Protection: When the battery voltage is lower than 3.2v, the battery will shut down.
1100mah capacity Variable Voltage from 3.2 to 4.8 . These batteries have an on/off function. To turn them on/off press the button 5 times fast. The button will blink letting you know it has been switched to the on/off position. The battery is off when the button does not light up when it is pressed.
BE SAFE with BATTERIES-Charging and Battery Safety Article

Authentic SmokTech Products, directly from SmokTech
Simplify filling with Blunt Tip Needle Caps
Sanitary Tips: Friend Tip™ by ECBlend - disposable cartomizer tips for sanitary sharing of personal vaporizers.
---
TIP:
AVOID HARSH BURNT TASTE: Incorrect filling, not filling completely, excessive voltage, or letting it go 'dry' (not re-filling) may result in a harsh burnt taste.
NO DISCOUNTS: Unless otherwise specified, discount codes do not apply to this product.
NO WARRANTY: ECBlend does not offer warranties on cartomizers, clearomizers, tanks or atomizers.
---
Shaking and Steeping:
ECBlend E-Liquids are made fresh at the time you order and shipped quickly. Steeping allows flavors to blend and marry fully over time, so you will have a richer, deeper, more flavorful product after a few days or weeks of steeping. (This is especially true of tobacco flavors, our Dragon Series, and larger bottle sizes.) Store in a dark cool place, out of reach of children and pets. Shake daily.
---
---
Important Notices
(Select Options with Care: Options are available to mix and match to suit your taste. Care should be taken to not over flavor, (i.e. adding double extra flavor plus extra menthol plus double sweetener plus flavor shots will alter the original recipe and may give it a metallic or medicinal taste.) Always order a 5ml bottle before ordering a larger size.)
---
DOUBLE Extra Flavor WARNING
: Double extra flavor can change the intended flavor of a blend.
CLICK HERE to read FULL WARNINGS
EXTRA MENTHOL WARNING
: Extra Menthol is very minty, order it at your own risk.
TASTE IS SUBJECTIVE
: We recommend trying a 5ml bottle before ordering a larger size.
CUSTOM E-LIQUID - NO RETURNS, REFUNDS or EXCHANGES
: Due to personal tastes and preferences we are unable to offer returns, refunds or exchanges for e-liquid products.
WARNING ABOUT POLYCARBONATE TANKS: Use Polycarbonate tanks with e-liquid at your own risk.
NOTE: If your tank becomes cloudy or begins to crack, discontinue use of the tank. This usually indicates the plastic is polycarbonate.
MORE INFORMATION HERE and links to PP tanks